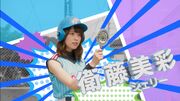 Eto Sherry (衛藤シェリー  Eto Sherry?) is a character from Hatsumori Bemars. She is the catcher of Team Polalis of St. Denenchofu Polalis Gakuen. It is assumed that she also became a catcher for Team Hatsumori Bemars after she transferred to 2nd Hatsumori Girls' Commercial High School with Kirei.
Abilities
Superhuman-like Physique - As a member of Team Polalis, Sherry had undergone unimaginable training to obtain Kirei's ideal "softball" form.

Superhuman-like Strength - Sherry and the rest of Team Polalis practices batting swings on a 1ton wrecking ball.
Superhuman-like Speed - Sherry and her team were seen practicing batting swings, having tea and cake, and entertaining reporters all at the same time.

All Possible Counters to Pre-existing Pitches - all members of Team Polalis were trained to counter all pre-existing pitches, including Nanamaru's Su-Ro-To.
Note
Sherry's last name wasn't mentioned until the last episode, when the game announcer introduced both teams' members, specifically Team Polalis' Catcher, which was the only announcement heard.
Ad blocker interference detected!
Wikia is a free-to-use site that makes money from advertising. We have a modified experience for viewers using ad blockers

Wikia is not accessible if you've made further modifications. Remove the custom ad blocker rule(s) and the page will load as expected.