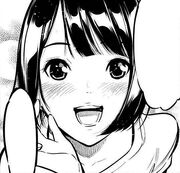 Tanaka Natsumi (田中菜津美  Tanaka Natsumi?) is a 1st Generation member of HKT48, nicknamed Natsumikan (なつみかん  Natsumikan?). Due to her tall height despite her young age, she tries her best to act adult-like. In reality, she dislikes acting feminine, and would sometimes become nauseous. After Urakawa Minori accidentally found out of her habit, Minori gave her some advice.
Ad blocker interference detected!
Wikia is a free-to-use site that makes money from advertising. We have a modified experience for viewers using ad blockers

Wikia is not accessible if you've made further modifications. Remove the custom ad blocker rule(s) and the page will load as expected.